In order to access all the features of Banana Board you will need to register as a member.

Registration is a simple process that requires only three pieces of information.
A user name

A nickname

A valid e-mail address

The registration form looks as shown below.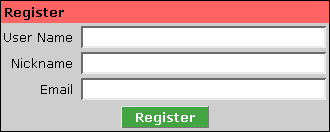 User name
Your user name can be a maximum of 16 characters in length. You will be required to type your user name each time you login to Banana Board so we recommend that you keep your user name as short as possible.
Nickname
Your nickname can be a maximum of 32 characters in length. You can see from the image below how your user and nickname are displayed when posting a message.



Note
If you choose to have the same user and nickname then only your nickname will be displayed.
Email
A valid email address is required as this will be used to send your password.

Once you have filled in the three required fields click on the Register button. If the registration process is successful an email confirming your registration, containing your password and login instructions will be sent to the email address you supplied.

If there are any problems during the registration process you will be returned to the registration page and any error messages will be displayed.